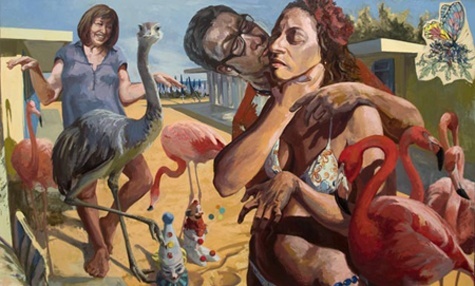 We're thrilled that artist Teresa Dunn has agreed to let us use an image of one of her paintings for our Fall 2011 cover.
Teresa is an Assistant Professor of Painting at Michigan State University and the recipient of numerous awards and fellowships. She describes her work this way:
My narratives explore relationships through the absurd. Animals, food, and objects are important as humans by becoming symbolic, metaphorical or characters themselves. Their peculiar reality becomes normal, as in dreams or memory…My paintings investigate ways we navigate ourselves through life, environment, and our psychological eccentricities. Seasons, relationships, jobs, and cities attempt to define us. Peculiar occurrences, symbolism, and metaphor tie together some loose ends and fray others.
You can see more of Teresa's work at her website. She is represented by First Street Gallery and Hook-Epstein Galleries.
Oh, and we should probably mention that we won't be using the painting pictured above (Introducing my other half, 2010, oil on linen, 40"x66") for the cover. We really like it, but it's not the right shape.