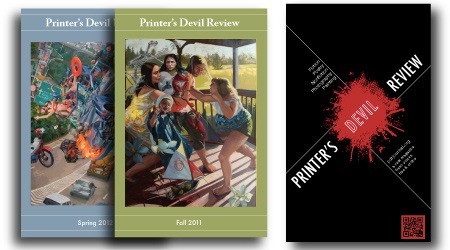 PDR Ceases Publication
After four years of providing open access to original fiction, poetry, essays, and fine art, Printer's Devil Review will officially cease publication on October 1, 2015. We will maintain our online presence indefinitely at pdrjournal.org, where free PDF downloads of all of our issues will remain available. Print versions of the magazine will continue to be available for purchase at Lulu.com.
Printer's Devil Review, published by Black Key Press, was an open access arts and letters journal publishing online and print issues from 2011-2014.
---
Printer's Devil Review is a (primarily) online journal featuring fiction (short stories and excerpts from novels), poetry, non fiction, and visual art. All of our issues are available for free download as PDFs and some are available as free ebooks. Print versions of issues are available for purchase at Lulu.com.
Independent and open access, PDR provides emerging writers and artists with access to publication and inquisitive readers with new voices and visions.
Our Guiding Values
Support for Emerging Writers & Artists
PDR is dedicated to providing emerging writers and artists with access to publication. We exist to support, distribute, and promote new writing and art.
Open Access
PDR is proud to be an open-access publication. Peter Suber, a leading advocate for open access, defines it this way: "Open-access (OA) literature is digital, online, free of charge, and free of most copyright and licensing restrictions."
We want to eliminate any barriers that might separate writers and artists from the communities that form around their work. That's why access to PDR is free of charge to anyone with an internet connection, anywhere in the world.
Although copyright stays with the author or artist, the magazine's content is available to everyone under a Creative Commons license. That means that, with a few practical restrictions to protect contributors' rights, anyone can reproduce the content of the magazine for any non-commercial purpose.
Independence
PDR is not associated with any commercial publisher or university; our editors are practicing writers and artists who volunteer their time to bring work they admire to a wider audience.
What People Are Saying About Us
"Gorgeous…Beautifully put together…the kind of journal where good writers who go on to be great get their start."
—The Review Review
"Lushly produced [and] brilliantly crafted…a gateway for artists to debut the way they deserve, as well as presenting a compilation of striking work to those with a love for art and a discerning eye."
—Cambridge Day