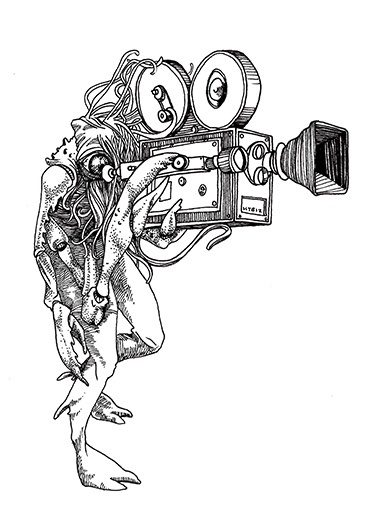 Nonfiction from Brian R. Hauser. Illustrations by Harriet "Happy" Burbeck.
Download "Call of the Cult Flick" by Brian R. Hauser with illustrations by Harriet "Happy" Burbeck.
The HPLHS, and all the indie filmmakers at the Lovecraft Film Festival – and thousands of other indie filmmakers at other film festivals around the world – are shouting their slogans at the barricades of the digital revolution, saying, "This I what I want to see and hear. This is what I want to know. And if you won't show it to me, I will create it myself."
Brian R. Hauser is an assistant professor of film studies at Union College in Schenectady, New York. His feature-length screenplay Cult Flick won the 2010 H. P. Lovecraft Film Festival screenwriting competition.
Harriet "Happy" Burbeck is a New Orleans comic artist, illustrator, and musician. She has shown her work at a number of galleries in the Crescent City, including Mimi's in the Marigny, Du Mois Gallery, Zeitgeist Multi-Disciplinary Arts Center, and The Candle Factory.