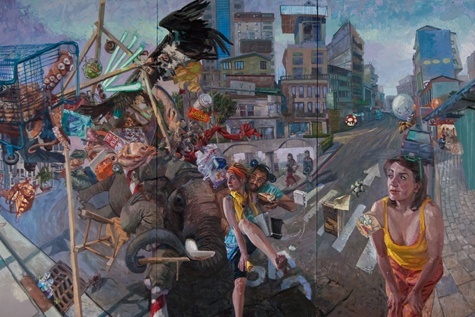 We're thrilled that artist Benjamin Duke has agreed to let us use an image of one of his paintings for our Spring 2012 cover.
Ben's work has appeared in numerous solo and group shows, both in the United States and abroad. He has been awarded international residencies at Bamboo Curtain Studios, Taiwan and at The Kuandu Museum of Fine Art in Taipei. A catalogue entitled Benjamin Duke 2001-2010: Nine Years of Work was published by Garden City Publishing in June 2010. Ben teaches painting and drawing at Michigan State University.
He describes his work this way:
In my paintings I ask myself "Is this the way the world is?' I reshape and retool my painting experience to answer that question. But while the question begins with the world, it ends with the work itself: "Is this the way the world is in this work?"

The search is for the world in painting and painting in the world (painting worlds / paintings world). Am I in the world or is the world in me? I allude to my life, to writers works, to imagery and it is my hope that this record of allusion conjures and creates the same. I am referring to text, theory, idea but I am also finding myself already there, looking out to see in.
You can see more of Ben's work at his website. He is represented by Ann Nathan Gallery.
The painting pictured above is TMI, 2010, 96 X 144.