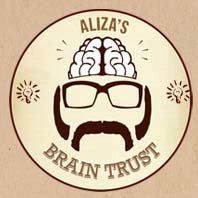 If you live in the Boston area and have been to an indie film event, a queer dance night, a Dr. Sketchy drawing session, a spoken word performance–basically, if you have been involved in the creative scene at all–you probably know or have heard of of artist and indie impresario Aliza Shapiro. She performs, organizes shows and screenings, promotes her fellow artists, and just generally makes good things happen in the city and beyond.
On Monday, July 25, 2011, Aliza was admitted to hospital and is being treated for a stroke caused by a brain hemorrhage.
She currently has motor and vision impairment on her right side as well as language impairment.
Aliza's friends have established Aliza's Brain Trust with the goal of raising at least ten months worth of living expenses for Aliza as it is unlikely that she will be able to work for a long while. We hope you'll consider making a donation to help someone who has given so much to support performers, filmmakers, artists, and others.
[I know we've been trying to raise funds for PDR, but honestly, if you've got money to donate, we hope you'll send it to Aliza's Brain Trust first].