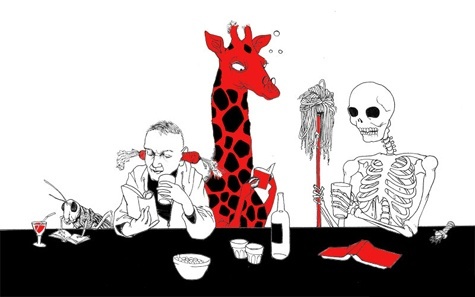 Illustration sensation Harriet "Happy" Burbeck provides drawings of Lovecraftian horrors to accompany Brian R. Hauser's essay "Call of the Cult Flick" in our Spring 2012 issue.
Happy is a New Orleans comic artist, illustrator, and musician. She has shown her work at a number of galleries in the Crescent City, including Mimi's in the Marigny, Du Mois Gallery, Zeitgeist Multi-Disciplinary Arts Center, and The Candle Factory.
She has this to say about what she's been up to:
I am in a band called Ixnay, formerly known as The Leah Quinelle All-Stars Featuring Happy. I illustrated the choose-your-own-adventure on that website, which you should not look at unless you are older than 18 and have a high tolerance for dirty words. I have been working with the New Orleans Bookfair for the past four years, and made the poster graphic for the Bookfair 2008-2010. The books to which I have contributed illustrations include Stories Care Forgot, The Chainbreaker Book, and Take Me Out to the Dog Park. I have contributed to many zines, including, but not limited to Full Gallop, Chihuahua and Pitbull, Chainbreaker, Cornfed Hussy, Y'eard Me and Feast Comics Anthology.

My client list also includes Beth's Books, Garrett County Press, Factory Direct Zine Mail Order, The Vedic Yagya Center, Fitzgerald Letterpress, Louisiana Books to Prisoners, White Rabbit Gallery, Antigravity Magazine, The New Orleans School of Art and Craft, Willamette Week, Skimmer Studio, The Raging Pelican and others. I also have been making a zine called The Nose Knows with three other artists for five years now. Email us at nasalknowledge@gmail.com if you want a subscription.
You can see more of Happy's work at her website. She also makes drawings and paintings on commission.